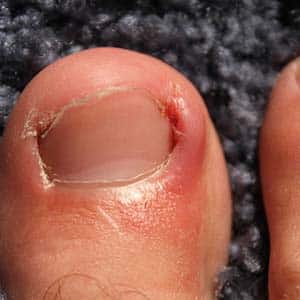 An ingrown toenail occurs when the nail grows into the skin on one or both sides of the nail bed. It is a common problem among both adults and children, which is often painful and may or may not be accompanied by a toenail infection. Most commonly ingrown toenails occur in the big toe, but can also affect smaller toes.
If you think you may have an ingrown toenail, it is best to see a podiatrist for treatment and advice on how to prevent it from recurring. If you have an ingrown toenail that has come back a few times, you may need a surgical procedure to remove a portion of the nail. The majority of people experience significant improvement following ingrown toenail surgery and are able to return to normal activities without further problems.
Call the foot clinic in Dublin today on 01-5397834 if you need treatment for an ingrown toenail.